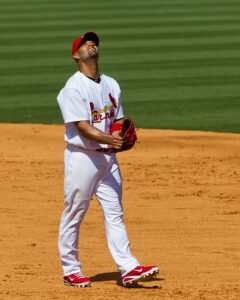 You did not have to be a Cardinals fan to enjoy the game last night. Game 3 in the World Series, and one of the best players ever to play simply takes over the game. What a joy to watch and what an example of humility followed. We watched him with intent focus dismantle three professional pitchers. We watched him exude child-like joy after each one. We watched him embrace his teammates and acknowledge fans. This was all consistent with the humility he has shown the last decade in St. Louis.
Most of us have never known that type of success and we likely never will. I know the temptation to think I am responsible for what little success I have. I know the temptation to think more of myself than I ought to. To think of myself as better than others. How tempting that must be for Albert Pujols.
What a test he passed last night. Historic game, historic moment, reporters wanting to elevate him to god status. Just the day before Pujols was the target of  a lot of criticism from the media, you could tell Pujols did not want to speak to the reporter after the game. He composed himself and spoke words that really earned my respect for him as a person. He said "God has given me a special power". That spoke volumes about his mindset. He gets it, he understands his place, he respects the gifts he has been given. He was humble.
At that moment of grand success we often hear athletes acknowledge God but then they go on to talk about themselves. They clearly become enamored with what they have done. Pujols went on to talk about his team, talk about doing his best, talk about winning the series, being honored to be in such company, he did NOT fawn on himself. That is real humility. Pujols is not a weakling, he performed on the largest of public stages. He performed in a historic way that will not soon be forgotten. He was strong in his humility.
I really hope people can begin to see the humility he shows. To understand the inner strength it takes to handle yourself that way in that situation. To begin to understand what is behind that humility and let's hope the kids that were watching can emulate that instead of what we typically see.