The Revenge of Normandie Golf Course
My back has finally healed enough I can play some golf and I have been regularly getting onto the links with my brother Matthew. Matthew just turned 40 this week so we got out and played a round. It did not click with me where we were headed when he booked a tee time at Normandie, I was thinking of Norwood CC. It was not until I stepped onto the first tee that I truly realized where I was. And of course I duffed the tee shot.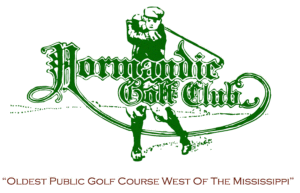 Back in 1986, my high school golf team had either our Conference or District Tournaments at Normandie. I cannot remember exactly, and Google did not remember either. All the times we had competed there before, Normandie had been a disaster for me. On that day in 1986 I shot a glorious round. it was a top score and certainly a personal best for me at the old course. I distinctly remember leaving that day feeling like I had won, not the tourney, but against the course. I vowed not to return and simply end our relationship the winner.
Oh how Normandie got even yesterday. I remembered her traps just as we entered them. She had cold, bitter revenge waiting for me throughout the day. The list is endless and these are in order of bitterness, not order of play…
#5, 170 yards, Par 3. I hit a beautiful 7 iron right at the pin…oh by the way we have a tree that hangs over a third of the green protecting it…we will put the pin right under the tree…I dinged the tree and stopped on the edge of the green. Birdie opportunity squelched.
#12, 136 yards, Par 3. I hit another beautiful shot about a yard behind the hole. Backspin brought the ball back and it almost went in for a hole in one. But the ball came to rest 15 feet below the hole, off of backspin. The slant on this green is unbelievable and I remember people hitting great shots and ending up well off the green. Par again, no bird…ugh
#11, 412 yards, Par 4. I had this one covered. I remembered the tiny creek that crosses the fairway 230 yards out, just perfect for catching well hit drives. I swung a little easier and ended up in perfect position right in front of the creek. Came up to my ball feeling good, only to find the course laughing at me. On this hole the fairway is pool table hard all times of the year. The grass is barely existent so you are simply hitting off of lovely Missouri clay. What course penalizes you for being in the fairway? Normandie d'accord.
Ran into her other wonderful attributes as well, they existed on so many holes it is hard to describe a circumstance.
Fairway shots with the ball 8 inches above or below your feet
Greens so tilted and cut so short a 3 ft putt can send you off the entire green.
Tee boxes devoid of grass.
Cart paths that require a 4×4 to traverse.
A finishing hole that is a 250 yard Par 3. Who had a hole like this in 1901?
Sand that is hilariously inconsistent. She has it all

Swamps
Rock hard
Wet and soft
Dry and rocky
We must remember this course was designed in 1901, when golf in Mid-America was shaped by sadists–I mean the Foulis brothers. The golfers of old ran around with mashies and scrapers. Yes, a fairway wood in this era was called a scraper. Well that explains the fairways anyway…