focus on > monitors: LCDS GAINING ON PLASMAS
Liquid-crystal technology outshines plasma by making longer-lasting, cooler, more efficient displays possible.
By: Michele Pepe
Originally published March 31, 2003, CRN (News, Analysis, and Perspective for VARS and Technology Integrators)
LCDs aren't just for the desktop anymore. In the past year, flat panels based on liquid-crystal technology have gotten bigger, brighter and less expensive. They've also shouldered their way past plasma displays into the digital signage space.
For Sonacom, a network integrator in St. Louis, public display sales have soared about 30 percent in the past three months. "The market's being fuelled by an impressive new set of LCDs," said Bob Fowler, a senior resource manager at Sonacom.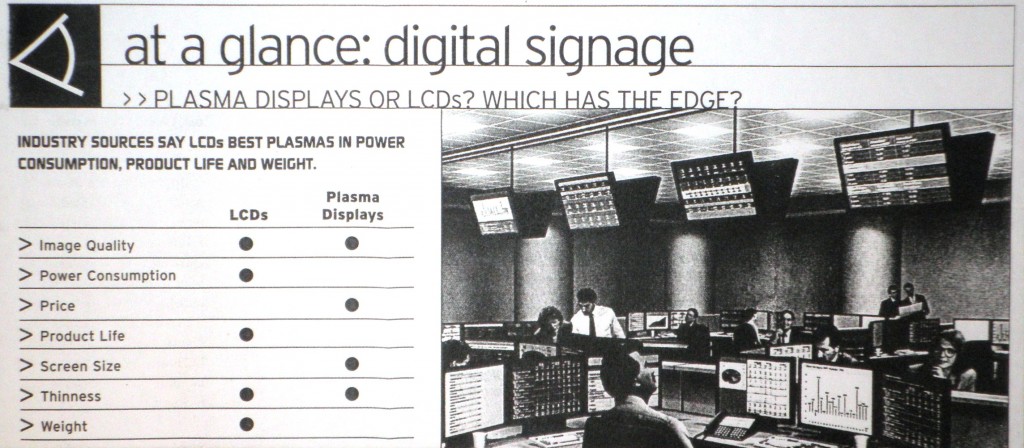 The fact that plasma technology has drawbacks is no secret, said Larry Blaney, vice president of sales at the Display Systems Group of Richardson Electronics, a distributor and integrator based in LaFox, Ill. But until recently, the high price of LCDs prevented them from capitalizing on plasma's shortcomings and penetrating the public display market, he said.
LCD prices have come down dramatically in the past year, but a 40-inch flat panel still costs about $6,000—nearly twice as much as a 42-inch plasma display, said Alan Brawn, national product marketing manager for the Pro AV Group at Samsung Electronics, America, Irvine, Calif. Yet industry watchers expect LCD prices to come down further—by up to 60 percent in the next few years.
In the meantime, LCDs represent a fairly easy sell in the digital signage space because of the advantages they have over plasma technology, said Chris Connery, director of marketing at NEC-Mitsubishi Electronics Display of America, Itasca, Ill.
"A customer might pay a premium for an LCD, but the cost-savings they'll get in the long run will be worth it," Connery said. "LCDs consume less power, so they generate less heat, and that's a big concern when you're talking about displays that are running 24×7."
Also, plasma displays fall prey to burn in, whereby activated phosphors wear unevenly over time and result in static images such as logos burning into the display. Burn-in isn't an issue with LCDs. What's more, LCDs last longer. NEC-Mitsubishi estimates the life of its LCDs at 50,000 hours, but phosphors in a plasma display can degrade to one-half their brightness after about 10,000 hours, Connery said.
Where plasma displays still have an edge is in size. The largest LCD in production now is 40 inches, while plasma displays run as big as 61 inches, said industry analysts.
But LCD vendors are poised to catch up. Samsung has demonstrated 46-inch and 54-inch LCDs, and Philips Electronics is working on 42-inch and 48-inch products.
And solution providers aren't wasting any time in developing LCD systems.
Infax, for example, is wrapping up a 35-LCD deployment at Savannah International Airport in Georgia. There, the displays will provide passengers with flight departure and arrival times, gate locations and weather maps, said Mike Davis, president and owner of Atlanta-based Infax, which installs NEC-Mitsubishi's 30-ince and 40-inch LCDs in public transportation areas, hospital and courthouses.
"Because of their high refresh rates, plasma displays are very good for full-motion video," Davis said. "But our customers are astute enough to know that plasma displays in static situations will just have to be changed out in 24 months."
Infax has nearly 20 display installations slated for the next six months, and more than half will be LCDs, Davis said.
MCSi, a $600 million systems integrator, uses displays from Clarity Visual Systems, Wilsonville, Ore., to provide turnkey signage solutions to banks, retailers, nightclubs, airports and restaurants.
"If a convenience store wants a public display, we first go in and assess where the LCD should go," said Gary Quasebarth, vice president of technology MCSi, Dayton, Ohio. "We also create the content, install the displays, and host and manage the solution."
Up until six months ago, plasma displays accounted for about 90 percent of the digital signage solutions MCSi deployed Quasebarth said. Today that number is 40 percent, with LCDs making up the balance.
"There's still room for plasma displays in this market, but LCDs are much better solutions," he said. "LCD are the optimal technology here."