Chosen Contractor for Richmond Heights Public Safety Building
Feb 2003 – Public Safety Building
Richmond Heights, MO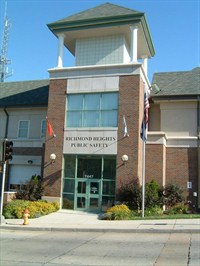 Types of Project: public
Estimated Construction Cost: $5M
Estimated Completion Date: February 2003
Owner: City of Richmond Heights
Architect and interior architect: Wm. B. lt-tner
Civil Engineer: Land Development Consultants Structural Engineering: lbrahim Engineering
Mechanical and Electrical Engineer: Wm. Tao
Technology Engineer: Sonacom IT Partners
CM: Jacobs Engineering
General Contractor: Albers Construction
Major subcontractors: RF Mechanical, Casey Electrical, Moncey Plumbing, Fireworks, JDS Masonry
Project Description:
Square Footage: 34,000
Levels: 2
Structural System: steel
Exterior material: Integral color split-face CMU, brick, and EIFS
Features: 6-cell, multi-city police department holding facility, 7-city central dispatch center, 3-bay double length drive-through fire department apparatus center, citywide emergency operations command center, joint-use police/fire/community conference, meeting and training rooms.