Affton Early Childhood Education Center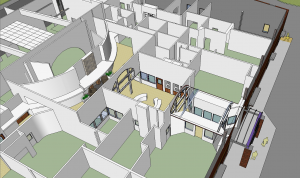 KRJ Architects was kind enough to send us their Google SketchUp file of the new ECE building. I have exported an animated walk through and included it here. We are very excited to see this come to fruition! I have also included the presentation they made regarding their design.
We expect the building to be ready by summer of 2012 and open in the fall of that year. We currently have a number of people working on the curriculum to be used. Affton has a long history in early childhood education, this next chapter will be a good one.
Video Walk Through of Affton ECE, Courtesy KRJ Architects