A couple of weeks ago I received my freshly minted OnePlus 2 phone. I won an invite because of the efforts of our internship program. They are building software for an exhibit to open June 2016 at the St. Louis Science Center. You can see a video about this project here (https://www.youtube.com/watch?v=fai3SzTIYn4). The OP2 sports a very useful USB-C port.
A few months ago I received my "Ludicrous Speed" Google Pixel that sports two USB-C ports. The existence of the same port on the OnePlus 2 made it quite desirable to me. It would be wonderful to use all the same adapters and power supplies for all my devices.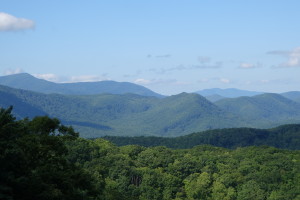 This week we went on vacation with the family to Gatlinburg, Tennessee. We do enjoy the Smoky Mountains and they did not disappoint once again.
On this trip I decided to take the following kit and really test the flexibility of USB-C. I decided to leave my laptop power supply at home and only utilize USB devices for charging.
Anker 4 port USB Charger
Anker 22000 Mah battery pack
Google Pixel 2015
OnePlus 2
Nexus 9
Sony DSC-QX100 Lens Camera
Verizon Jetpack
This trip was truly a test of USB-C charging and my results were fantastic. Both Anker units could charge my Pixel without a problem. As I shared in a previous article, the Anker battery can charge the Pixel from dead with room to spare (http://mmcneil.com/2015/05/pixelated/). Running my laptop all day and then charging at night on the USB charger worked wonderfully. I used the Google cable available here (https://store.google.com/product/usb_type_c_to_usb_standard_a_plug_cable). I rarely worry about my laptop battery level anymore, this is a great feeling. As I write this it is getting into the evening and I have been working on my Pixel outdoors with screen at full brightness all day. I still have 20% battery left.
My experience with the OP2 was equally good. I used the included "spaghetti" cable from OnePlus. I also purchased the USB-C to microUSB adapter sold here (https://oneplus.net/oneplus-usb-type-c-adapter) and have it on my key ring just in case. The combination meant I did not struggle with battery life at all even though we went hiking for hours at a time and spent the day away from our cabin. I will admit it also helped that I received the OTA update to the OP2. I think battery life increased 50% after the update.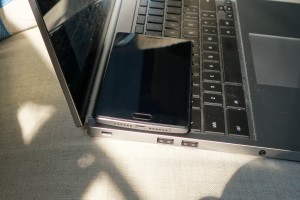 I also purchased a USB-C cable so I can connect the Pixel to my phone directly(http://www.amazon.com/gp/product/B00WG9L2YQ). I also tested charging using this cable and I successfully had the Pixel charging on the Anker USB unit and the OP2 charging off the Pixel at the same time. By connecting the USB charger to one port on the Pixel and the other directly to the OP2 I can charge both devices using a single USB port overnight. While I do not plan to do this often it allows me to travel light and keep my devices charged effectively.
Video is another element of USB-C use and it will be interesting to see where OnePlus and other phone manufacturers go with this. To this point they are not supporting HDMI over USB-C but this could change. I already carry HDMI, VGA(DB-15), and DisplayPort USB-C adapters for my Pixel. It would be an excellent bonus to be able to use them on my OP2 as well.
Conclusion
I saw excellent results using USB-C this last week for my power and connectivity needs. I had power all day, every day and a battery solution with me wherever I went. The flexibility combined with the outstanding battery life of my devices made technology an afterthought of the trip. I am very pleased with my kit at this point and I like the flexibility that I have. It will take a couple of years for microUSB to go away but I think the world will be a better place when it does. USB-C is a winner!