THE GO WITH PARTNERS
Originally published January 24-30, 2000, Advertising Supplement, St. Louis Business Journal
"It's ironic after 12 years, to discover that what we do has become central preoccupation of the marketplace," says Rick Oertli, CEO and founder of Sonacom IT Partners. "We have been fortunate over that time to have acquired significant experience in all three of the technologies now associated with convergence-telecommunications, video and data electronics."
From the beginning, Sonacom has defined its business by following customer value, and finding ways to achieve it. "Our roots were in building systems contracting with its punch lists and spec-based contracts." This focus on structure has helped make Sonacom IT Partners the outfitter of choice for organizations seeking to build or expand their information technology infrastructure.
"Lots of managers tell us each year that their IT expenditures keep growing with no greater assurances about the business value of that investment. Our company guides you through the technology adoption process-we map a critical path for you, benchmark your requirements. Then we design and build systems you can grow with, making those provisions for bandwidth and capacity issues that you need to allow for."
S O N A C O M      S E R V I C E S
Traditional Telephony (PBX and Voice Processing)
Advanced Telephony:

Server-Based PBX
Unified Messaging
Call Centers
Voice Over IP (VOIP)

Enterprise Data Electronics

Local Area Network (LAN)
Wide Area Network (WAN)
Virtual Private Network (VPN)
Servers and Network Operating System (NOS)
Firewalls and Storage Infrastructure

System Design and Project Management
New Paradigms, New Jobs To Do…
New Ways Of Organizing To Make IT Work
"At Sonacom, we have aligned our company to accommodate the speed of the business technology world we compete in," says Oertli. "We want to promote imagination and insight balanced by consistency and discipline–continuing to learn as an organization, and grow by leveraging that expertise. Our style is collaborative with lots of two-way interaction with the client. It all boils down to partnering–which is something we take very seriously. This year we redesigned our logo and added IT Partners to Sonacom's identity to better reflect this philosophy. The new name with 'arrow of progress' announces our commitment to working in dynamic partnership with our customers, our suppliers, and our friends and alliances."
Sonacom prides itself on its long-term relationships, working for our customers side-by-side with the leaders in the network integration business. The pursuit of the business value of a given application keeps us technology-neutral to a large extent. Our technology independence strikes a balance that we and our customers prefer."
Finding Your Way Through The Wilderness Of Technology
Finding And Mapping The Critical Path
Whether or not we are seeing the end of business cycles as we've known them, the speed of business has accelerated exponentially in the last several years. Big company or small, information technology (IT) is now integral to corporate survival. This is especially true for businesses that rely on the services of knowledge workers and business intelligence to compete.
"We've become the IT outfitter for our regular corporate customers and even more for some of our strategic partners," say McNeil (Michael McNeil, Chief Technology Officer). "We help them to evaluate and choose the right technology in an environment where change is continuous in ways that impact their businesses." So much has migrated from traditional media to the network, that a robust and flexible IT infrastructure has become an important instrument of business opportunity.
Sonacom's IT Pathfinder™
One powerful way to mitigate the risks associated with rapid change is to build change-management into the IT planning process. Sonacom's systems engineering culture is steeped in methodology, and balanced by strong project management experience. "Adhering to a proven methodology helps keep everyone alert to the impact of the details on performance," says Scott Miller, Sonacom's Director of Engineering Services. In IT today, systems downtime should be as close to zero as possible; hence, Sonacom's emphasis on a methodology that benchmarks and plans, specifies and corrects, implements and tests, with value engineering as the operating principle.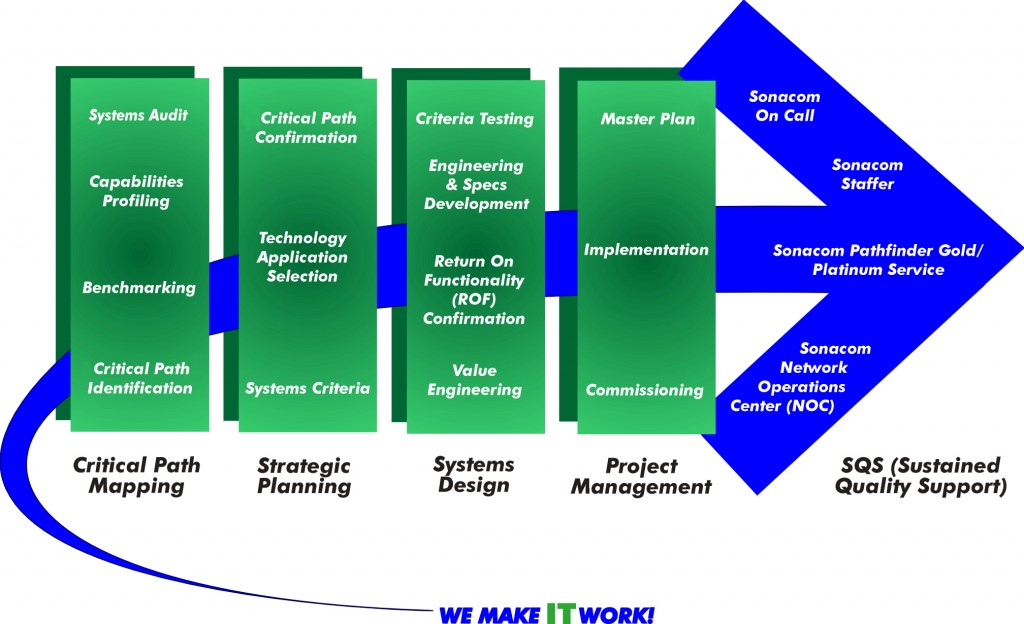 Technology Adoption Planning
Change Management As Methodology
"Too often we see poor planning on the part of companies who end up spending more than necessary and because in the end they needed more functionality than originally purchased." Few companies can afford to buy new everything at one time. That's why Sonacom Resource Managers map migration strategies into the client's IT plan, so that when the time comes, they can cut over to the next faster, smarter system without having to needlessly disrupt their business or their balance sheet.
"Working in the construction industry taught us the value of systematic planning and working with advanced–potentially bleeding edge technology, and taught us to make planning a permanent component of our engineering culture," says Mike McNeil. "Technology adoption planning has evolved into a specialty unto itself. In fact, this aspect of our professional services has brought us the attention or architectural firms whose own planning practices we complement. We help the architects to differentiate themselves with the addition of IT planning, which can help them win more jobs. They help us reach clients early enough in the cycle to really save them a lot of money and time."
"Acquiring cutting edge technology can be a daunting process. It seldom comes cheap. And mistakes can be disastrous. The IT Pathfinder methodology helps to mitigate that risk. It certainly makes it easier to plan and manage a complex technology project. We have found that our clients welcome the reality check it provides."
Connecting Campuses
Sonacom in Education
Meeting the needs of educators has helped to define Sonacom's approach to network systems design. Fast growing districts, such as Triad in Southern Illinois and Ritenour, Warrenton, Moberly and now Hillsboro in Missouri, have found a total technology partner in Sonacom. Their multiple campuses and diverse communities require network architectures that can perform double and even triple-duty, and they can't be labor intensive to maintain and administer.
In education, success is measured by how well teachers and students can use the technology. Is it easy to use? Is it reliable and stable? Does it meet the school budgetary requirements? Can the school system add to the network over time without having to rebuild from scratch?
In addressing these concerns, Sonacom has engineered solutions in a host of applications and formats as they fit with the requirements and available budgets. Sonacom provides wide area connections for both urban and rural school districts, across the range of available technologies from traditional leased T1 circuits, to ISDN and DSL, as well as more leading edge solutions such as deploying ATM technology over private fiber.
Today's switching technologies enable districts to integrate their phone systems together with on-demand classroom video over a unified high-speed network. In many cases, these systems allow schools to better manage growth and prolong the lives of legacy equipment while significantly lowering the costs of network administration. The value of systems integration runs deep, to fundamental improvements in parent teacher communications with features like Homework Hotline and district-wide voicemail and unified messaging.
Getting The Job Done…At Internet Speed
With Y-2K fading away and high speed connections available for as little as $50 per month, the advantages of improved bandwidth is the great enabler of enterprise applications that capitalize on the power of e-mail, unified messaging and other network communications tools. The question is, how can you harness the power of this new technology to enable YOUR business?
G.A. Sullivan offers a strategic blend of business know-how, technology expertise and creative design skills to help you meet the challenges of today's demanding electronic marketplace. We specialize in advising companies on how to best use the Internet to leverage their business for a competitive advantage, offering the experience and capabilities to develop and build applications that can deliver business value.
G.A. Sullivan deploys the Microsoft® Windows® DNA Architecture for developing robust, scalable, distributed applications that address three fundamental areas of concern to any business: customer access and interaction; workflow and business process; business intelligence and information storage.
The Three Tiers Of The DNA Architecture:
Presentation Services provide client-centered functionality at the point of information display–where customers interact with your company–and where ease of use at every point of contact drives the development process.
Business Logic Services focus on rationalizing business processes with the goal of driving simplicity and flexibility throughout the application infrastructure. This tier enforces business rules and requirements, automating those business processes where economies in workflow and operations can yield increased accuracy of deliverables within business-appropriate security restrictions.
Data Services include mapping the information life-cycle within the enterprise, achieving optimized storage and retrieval and effective online management of any of a host of data mining, data-warehouse or other knowledge management utilities.
Using this highly flexible development architecture, G. A. Sullivan will help you to build e-commerce solutions that can help improve your company's performance. G.A. Sullivan project teams adhere to a rigorous systems methodology designed to optimize the Microsoft Solutions Framework. This discipline helps to ensure that project are delivered on time and within budget. With a team of more than 250 of the industry's most talented e-business professionals, we offer a track record for consistently delivering successful e-commerce solutions in a variety of industries. A few examples include:
GeneraLife Insurance Company, Edwardsville, Illinois
A startup company, GeneraLife, had a vision to create the world's first virtual life insurance company. The approach was to use leading edge technology to outsource traditional insurance underwriting and claims administration functions to third-party administrators. As a consequence, CEO Mike Conley and the GeneraLife team have revolutionalized traditional insurance company cost structure-moving from 80% fixed cost and 20% variable to a lean, highly flexible organization, whose fixed costs are held to a mere 20%, while business-driven variable expenses compose the remaining 80%.
G.A. Sullivan developed GeneraLife's enterprise e-commerce solution, which allows clients to buy and update life insurance policies entirely over the Internet. The virtual insurance company concept has been replicated across the US, in Canada and now in the Netherlands. "We could not have been successful, without the expertise and level of customer services G.A.Sullivan has provided," says Gregg Sharpe, Chief Operating Officer. "The Microsoft framework and applications G.A. Sullivan built for GeneraLife have garnered industry recognition for the application of technology to the management and selling of insurance products."
Cass Information Systems, St. Louis, Missouri
Using Microsoft development platform, G.A. Sullivan built a leading-edge Internet reporting system for Cass Information Systems, the nation's oldest, largest provider of outsourced freight and utility payables services. Cass sought to create an online reporting system capable of delivering thousands of reports to clients over the Internet. The secure website gives customers more timely data on demand, plus, the flexibility to customize their data at will, either within their browsers or, offline, on their own spreadsheets.
According to Terry J. Cowee, Senior Vice President Sales & Marketing of Cass Information Systems, "Through each phase of this project, the G.A. Sullivan consulting team has demonstrated excellence in implementing Microsoft technologies. We look forward to reaping the benefits of our new Internet reporting system."
Cutting Edge Doesn't Have To Bleed!
People don't buy technology because it's new. They buy functionality–the "can-dos" that become possible with a new invention or refinement of some existing tool. The big surprise is discovering affordability. Moore's Law has made believers of nearly everyone as memory, storage and processors get significantly faster and cheaper on a fast and continual basis.
"Sonacom's role as outfitter and guide is to stay on top of the trends so as to understand and convey these possibilities and get the news to our customer-partners about what they can do with a given technology," says Scott Miller. "As reseller for Nortel, Cisco, Interactive Intelligence, FVC.Com, NEC, VA Linux, Microsoft, Compaq, Dell and dozens of others, we get equipment and software to test and train with early in the product cycle. Our guys become hands-on familiar so quickly that we've had cases where we understand it better and sooner than the manufacturer's own representatives. They need us to be that way, it helps them to perfect their products."
"It's fluency like this that reinforces Sonacom's partnerships with manufacturers and bandwidth providers," says Mike McNeil. "They need 'go-to' partners to drive and support their channels, just as we need their products and engineering know-how to provide value for our customers. The key ingredient isn't that we are smarter than anybody else. It's our project management skills. It's good communications–in English, not tech-speak.
"It's our structured approach, our ability to chart and manage schedules that brings us clients who want us to build and manage their network for them; or who ask us to help with building out entirely new technologies," says Mike McNeil.
Getting Around With Cellular
In the case of Dierbergs, Sonacom introduced Integrated Wireless into their stores. Essentially a wireless PBX designed by NEC, Integrated Wireless is ideal for large open retail spaces like a grocery store or warehouse retailer, or an auto dealership. The system eliminates the need for blaring pages over the loudspeaker. Now, store personnel are reachable anywhere on the premises–the integration features make for walk-anywhere availability without dead spots of conventional on premises systems. "Wireless allows you to walk to the product on the phone, and even read the label to the customers, if necessary," said Terry Connor, store director. "This has saved us a lot of time and footwork." For the users the convenient NEC phone units offer all the features of an advanced desk-top phone system–voicemail, paging, display–and it fits in a user's shirt pocket.
Linux Applications For Plant Genome Research
For the Danforth Center for Plant Science, Sonacom deployed the VA Linux server farm that supports the research of the Center's Computational Biologist, Dr. Jeff Skolnick. Designed by Dr. Skolnick, the system performs massive numbers of bio-statistical calculations. Using an array linking 120 processors, this Linux array is one of a handful of its kind in the world. In close cooperation with Skolnick, Sonacom technicians worked directly with VA Linux to configure, install and maintain the network.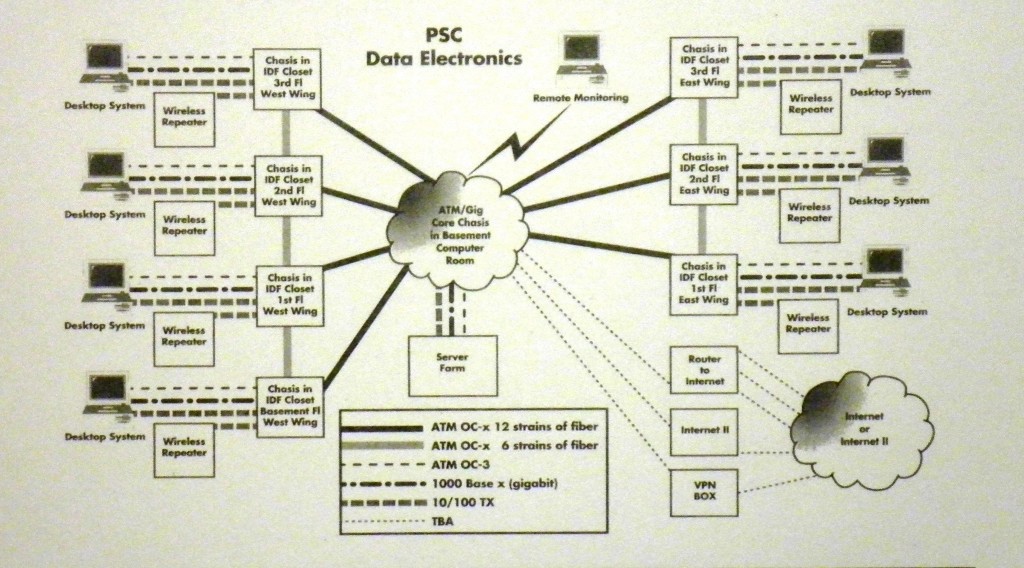 Business Value And The Bandwidth Revolution
Affordable, high-speed connections in a variety of "flavors" has arrived, most notably digital subscriber lines (DSL), and it's launched a rapid transformation of the business landscape of St. Louis. Bandwidth providers or Competitive Local Exchange Carriers (CLECs) have begun offering customers bundled services at T1 speeds at substantial savings. Starting at under $50 a month, the "always on" availability of "one big pipe" for phone service, fax, e-mail and Internet service brings with it new business configurations, with all the possibilities of access to the burgeoning world of e-commerce.
These companies are moving at phenomenal speed to build high-speed infrastructure. For example, Primary Network has begun an aggressive deployment of DSL facilities in 13 states and 42 cities across the Midwest, by co-locating in 352 Central Offices by the end of 2000. According to Trey Goede, Vice President of Sales, "Primary Network has business customers whose plans call for hundreds of home-based virtual offices. They turn to us because of our broad regional coverage. For example, in St. Louis, Primary Network offers high-speed internet access across the entire region, including Metro East and St. Charles County. We have 36 Central Offices available for DSL. No other data-centric CLEC boasts as large a footprint."
To Use The Pipe You Need Efficient Plumbing
Bandwidth makes many things possible. Business people are looking for answers beneath the hype about the "Information Superhighway." Now that Y-2K fears have dissipated, they want to know how to leverage the Internet in their businesses. The press is full of articles on e-commerce and "Web-enabled" business that frequently raise more questions than they answer. Dealing with questions about network infrastructure and the convergence of phone systems the network is central to Sonacom's services profile.
Intelligent Switching And The Realization Of Convergence
With the advent of Multi Protocol Label Switching (MPLS), the WAN becomes intelligent. By reading data packets at "wire speed," network performance reaches levels that deliver the quality of service (QoS) required to adequately support realtime voice and video. MPLS uses labels, or tags, that contain forwarding information, which are attached to IP packets by a router that sits at the edge of the network. In the last year, the technology has leapfrogged layer 2 and even layer 3 switching–taking intelligence to new levels.
The Accelar™ 700 Series of intelligent switches from Nortel Networks' examines packets in Layers 4 through 7, allowing the system to prioritize applications such as e-commerce transactions. Accelar Server Switches extend network service intelligence to where it's needed most –mission critical servers and applications. They connect to server farms and WAN interfaces, providing a common, controlled link between WAN users and content fulfillment points. The Accelar 750 Server Switch goes still further. It offers the ability to parse requests right down to the requested URL level and also ensures the reliability of Web transactions.
Integrated Broadband Access
At the heart of broadband technology are the signaling devices that can distinguish and parcel out the many discrete types of data that can travel over the wide area "backbone." This multiplexing technology that enables carriers to bundle services over DSL or T1 lines is entering a new phase of development.
In recent months, a new class Integrated Access Devices developed and manufactured by Accelearated Networks has arrived that allows carriers to offer a full complement of bundled voice, video and data services over a single DSL or T1 access line. For carriers, the IAD architecture provides significant improvement in the provisioning and rollout of high performance convergence products.
For end-user customers, it means that for a low monthly service fee, they will be able to deploy virtually any bandwidth intensive application at T1 quality of service levels. The bottom line is that reliable voice and video functionality are now possible over the network. Functionality that used to require expensive dedicated leased lines can be realized over less costly virtual private networks.
Who can benefit? Anyone for whom multimedia has become increasingly important to their business. Advertising agencies, production houses, and increasingly, the new e-enterprises who will capitalize on the next generation Internet. Today's heavy users of leased lines, and companies with heavy toll call expenditures, will also realize significant benefits as this technology comes into the mainstream–perhaps as soon as mid 2000.