I love Fall when it comes every year, not just for the leaves, the cool air, and the holidays. I love Fall because it is the one time of year I get to spend substantial time in the woods hunting. These times, I have learned, are very important for my health and mental well being. I always learn something when I go, this year I was reminded that God has a sense of humor. Not a mean sense of humor, but allowing us to laugh at ourselves as we learn humility, patience, and a sense of our place in creation.
Pre-story
For about 11 years, I dealt with an autoimmune condition (AS) in my back that, coupled with physical strains, kept me somewhat immobile for much of those years. I have been unable to bow hunt, which I used to do quite a bit. After remission in 2012, and gradual restrengthening, this year I have finally become strong enough again to pull my bow and take it hunting.
I recorded my test shots on Facebook: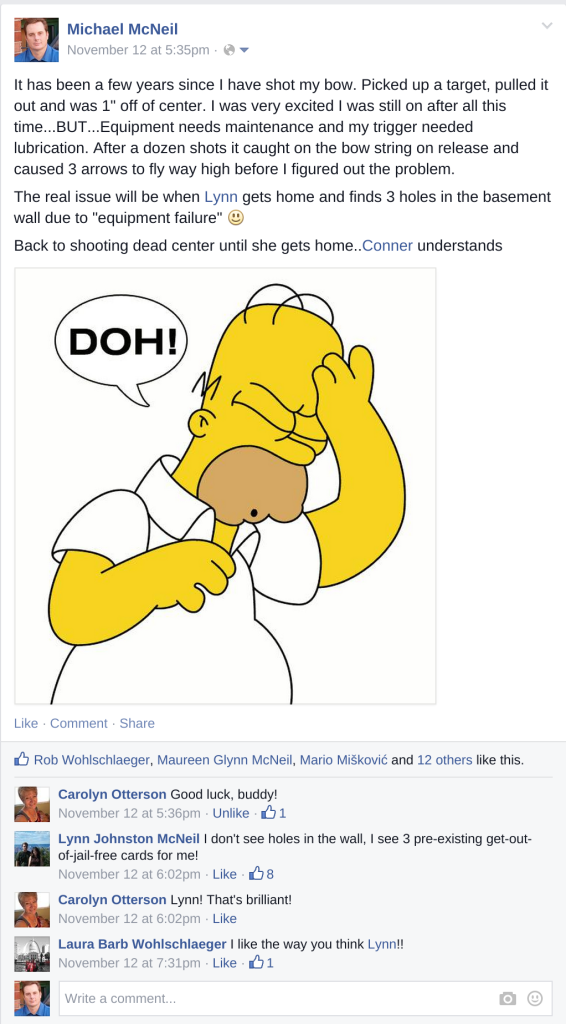 The next day we headed down to Sycamore Valley, my parents' property in southern Missouri. It is beautiful this time of year.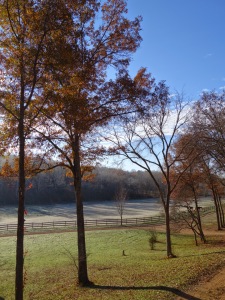 I was planning to hunt, so I retested my bow in preparation. When I pulled it, the string came off of one of the pulleys! For the next hour my dad and I took the bow apart and repaired it. I had to carefully memorize the position of the tensioning bolts, etc. to not throw the accuracy of the bow off. My Browning compound bow is quite old, I purchased it in an estate auction when I was about 20, it was at least 15 years old at that time. I doubt it will go into the field again after the events that unfolded on the stand.
Bow Hunting
There was a cold snap that night and the temperature dropped to 4 degrees. This was the first significant drop of the year, and I chose to wait until afternoon to go out. Prior to heading for the stand I stepped outside and shot a couple of good flights of arrows into the target at 45 yards. Temp was cold at 22 degree F, but workable.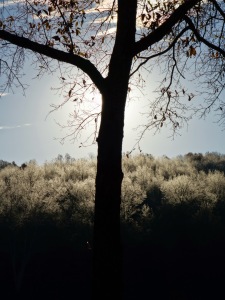 When I hunt in the afternoon, I leave right after lunch and very slowly walk to my stand. In this case it was about a half mile walk and it took me close to an hour to watchfully make my way through the field and up the hill to my stand. I could tell I was successful at not disrupting, because I got to my stand and as I looked around, I saw a decent sized buck about 80 yards down the old logging road. He was trying to figure out what I was up to, but I was encouraged because he did not spook, in fact I am fairly certain he came back by later.
Rut was full on as I was about to find out. About half an hour after arriving at the stand I had 2 deer walk up on me. It was a nice sized doe followed by a 6 point buck. I had no shot at the buck as they moved by, but the doe was right there at 15 yards. I decided to take the doe and not be greedy, you don't often get a shot inside of 15 yards. I knew that when shooting from an elevated stand I needed to aim lower than my sights. I will not explain the physics now, but here is a good site for reference:
http://www.summitstands.com/summit-journal/bow-shooting-tips-from-elevated-positions
I got in position to pull, and failed! I was cold and my stiff arms would not pull the bow. I did not panic and neither did the deer. On the second attempt I put some determination into my effort and pulled the bow. I lined up carefully and released. Ugh, I over-compensated and shot low, right under the deer! Both of the deer wandered off without another opportunity but they did not seem to know where I was.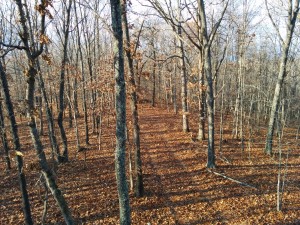 About  45 minutes later, I saw on my left an 8 point buck making his way straight at me. So I cautiously got in position. When he was about 20 yards away and presenting a shoulder to me I pulled the bow. As he stopped to check out this movement, the arrow came unnocked from my bowstring. So I was standing there, staring at a nice deer, an arrow flopping on my rest with the bow taut. Awkward. I tried to carefully release the bow tension so that I could renock the arrow and shoot. I managed to get ⅔ of the way there when for some reason the trigger released. I had been stabilizing the arrow with the hand that was also holding the bow, so that when the string sprung, the whole thing flopped out of my hands onto the ground below my stand. It felt like the deer was just laughing at me. He cocked his head to the side and walked away. He did not even give me a flash of white, absolutely no respect. I was simply not a threat. I carry a sidearm even while bow hunting because of cougars and bears in the area, and I was mad enough to remember I had it, but I just don't consider poaching an option.
Humiliated, I climbed down from my stand, retrieved my bow and arrow, and climbed back up. I only had to wait 20 minutes or so for a group of 3 does to come behind me at about 30 yards. Once again I drew and waited for a good shot. I was distrustful of my trigger at this point so I decreased the variables by using fingers. I was focused in the distance at the deer so I did not notice a slender tree about halfway between me and the group. When I shot, I firmly planted my arrow in this tree. I had fallen victim to the brush, another thing that can go wrong on a deer stand.
Having failed a third opportunity, I settled down again into my tree stand. It was with about 15 minutes of light left that the last group of deer came through. There were 4 does and a buck of decent size. They were about 45 yards away and I only had a shot at one of the does but I had just proved earlier in the day to be on target at that range. The shot was long but it looked good. I released and watch my arrow go a little left, I do that on occasion. I hit the deer, I saw the arrow flight all the way in, but I hit it in the rump. Definitely not a fatal shot. The deer ran off and I trudged back in to explain to my parents, my kids, my brothers, and all my nephews my list of failures. Even my 5 month old grandson was laughing at me, but I think he was trying to cheer me up…it worked.
Of all the things that can go wrong when hunting with a bow:
Elevation Adjustments
Brush
Equipment Failure
Pulling a Bow in the Cold
I nailed all of these pitfalls, I am thankful I did not also fall out of the tree stand, that would have been quite painful.
More Hunting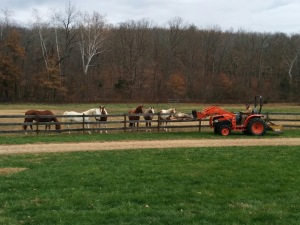 That next morning rifle season began in Missouri. Everyone knows that hunting with groups really changes the experience and dynamic. Not the best for hunting, but great family time. I had the opportunity to take a couple of nephews out, one of whom got a doe. It was a great time to talk with them, see what was going on in their lives, and simply participate in their experience. On Sunday afternoon everyone went home except for one of my brothers and I got to really go hunting again.
I decided to go into the the most remote part of our place to a favorite old wooden stand. It overlooks a small creek valley in a heavily wooded area. I took my brush gun, my old Marlin 1894S lever action 44 mag rifle. Again I left after lunch and took my time getting back to the stand. It was a pleasant walk and the valley was still and beautiful. About the time I arrived it started to snow. It was absolutely stunning. I just sat there with the snow piling up on me and the entire valley turned white. Because of the snow I saw the 5 deer coming from a long ways away. They made their way down the far side of the valley and crossed right where they always do. I waited for the largest doe to come into the crossing. The shot was clean and good at 80 yards and the deer went down easily.
You would think that getting a deer would be the redemption from the humiliation suffered earlier in the weekend but it was not. I have shot more deer than I can count over the years. I have had the gift of some great experiences and stories. The redemption started with the snow and continued through the next weekend. My goal is to get in sync with God while I am in the woods. It is there that I feel the closest to him. It is hard to describe the peace I felt sitting there while the snow slowly covered me, watching all the activity around me.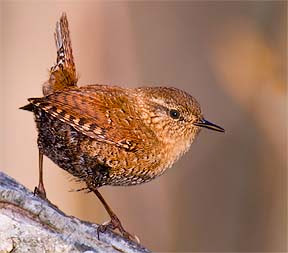 The next weekend I went out again with my son. I had another incredible experience that really brought it all together. I went out in the afternoon to the very same stand. The air was a bit warmer and the woods were alive with activity. There were birds everywhere. At one point a winter wren came fluttering my way. He first flew up and landed on my arm. He worked at my Mossy Oak camo like there might be a meal in there somewhere. He then hopped around on me, fluttered to the tree, fluttered back, and generally hung out on me for quite a while. This little guy was beautiful. He would flare out his vertical tail feathers. His head was actively moving about, looking for a meal. His feathers were an iridescent rust color, similar to the picture included here.
These were priceless experiences and what I really needed. So while God has a sense of humor and knocked my pride down a few pegs, He also knows what we need and gave me some wonderful experiences. I have included some other pictures representative of this year's season. We were blessed as a group to take 6 deer, and all have meat in their freezer. But hunting is about so much more than the meat, even if it does not go as planned.