Lock The Doors, The Fools Are Loose!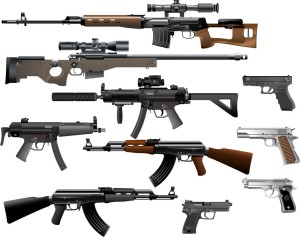 I have been absolutely stunned by what I have witnessed this last couple of weeks as guns have come under fire after the tragedy in Connecticut. My comments here are completely decoupled from that event, my heart and prayers are with those who have lost so much. The loss of children is always a tragedy. I am both saddened and angered to hear the garbage being put forth by extremists on both sides of the debate. We need to put a sock in their nasty mouths so a productive debate can even occur.
Anyone who knows me understands my belief that extremism is destroying our country. There are many things that have developed that I feel are damaging or threatening. None of them worry my like extremism in both the Democratic and Republican parties. One only has to look at the present gun control debate to see how far gone we really are. I will give you a clear example from each side of the aisle, Google can tell you the rest of the story.
This week there were rallies held across the country and also here in Missouri. On the grounds of the state capitol conservative radio host Beth Ann Schoenberg made this statement. "We should be able to have a cannon in our backyard if we want to". She should be lampooned on Leno and Saturday Night Live and every other medium for the silliness of that statement. Next time you drive through a suburban neighborhood imagine a series of howitzers, cannons, artillery, anti-aircraft guns in every backyard. How preposterous is that? When people live together in tight proximity to each other you must have some individual limits. Any reasonable person can see that.
On the other side I constantly hear about "assault style weapons" and "m-16 like rifles" and "military style weapons". These statements are always said in a tone that implies a great significance and power, like we should be scared they might walk into the room and destroy us. This is a bunch of silliness. Anyone who knows anything about guns belly laughs anytime this comes up. I hate to break it to you but "assault weapons" are not available to the public. Only military and limited police personnel have access to them.  AR-15s are no different than any other semi-auto weapon on the market. There are deer rifles that are more potent than these guns. They are also typically of lower quality and reliability than most firearms, they simply look like military weapons. I have fired a full auto weapon and there is an immense difference when compared to semi-automatic weapons. The gap seems small to the inexperienced and it is obvious the media is clueless. In much the same way it was discussed in the 1990's we will end up banning a certain style of gun instead of addressing the issues.
Full disclosure here, I own a number of weapons. I have shot tens of thousands of rounds and hand loaded thousands. I hunt. I would defend my family with force if an intruder broke into my home. I have been mugged and had a gun held to my head. I have witnessed people using guns recklessly and dangerously. I believe it would be wise for us to have a quality debate on the issue and make strides in the appropriate regulation of guns. We cannot have that debate while the fools have the floor, can they please be drowned out by reasonable people on both sides?