Stick Computers, Fact and Fiction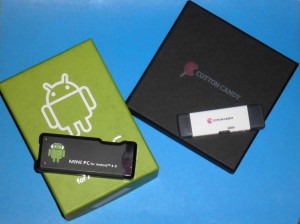 I have been both excited and amused at the recent product releases surrounding microcomputers. The definition of a microcomputer for my purposes is a fully functional PC the size of a traditional USB drive. While there are a number of devices on the market, they can be boiled down to two. These are the Cotton Candy (Cstick) from FXITech and the MK802 Android Mini-PC
(and derivatives UG802, MK808 etc). As far as I can tell, all other sticks that are purchasable are derived from the MK802.
I am excited because of the possibilities that are part and parcel to this form factor. They seem to be solid options for turning any HDMI monitor into a connected media and app device. This is very useful for checking email, watching Netflix, web browsing, reading, and making angry birds happy. There are also real advantages to having a computing platform and not just a USB drive in your pocket, purse or briefcase. This can be useful for presentations, troubleshooting, content creation, and testing.
I currently own both the Cstick and the MK802 and I find the comparisons to date to be quite humorous. When looking at blog sites that release news items regarding this form factor it is common to read comments like:
"Forget my laptop, I am just using my Mini-PC"
"For $50, the Mini-PC does everything"
"Stick computers are stupid unless they run Call of Duty"
"The Cotton Candy costs $200, epic fail"
"Cotton Candy is a waste when you can buy the same thing for $40"
Every single statement above is untrue and I would venture to say very few of these posters have even handled one of these devices. There are certainly some serious limitations to the form factor but we must remember we are dealing with a first generation product. I will also mention that both devices currently run Android Ice Cream Sandwich (4.0.4 for Cstick and 4.0.3 for MK802). I also have two devices running Jelly Bean, Android 4.1.1 and the difference is profound. The performance of the existing first generation stick computers will increase dramatically once they get an upgrade. So lets look at the current devices and their pros and cons.
MK802 Android Mini-PC
Pros:
Cheap ($41 at last check on Amazon)
It works really well streaming Netflix
Partial Google Play support (more on that later)
Comes with every needed accessory
Cons:
Slow as Molasses (My G1 is faster than this)
Partial Google Play support
No software updates since release
Spotty quality
Truth be told I have been using this device to watch Netflix and check mail in the family room for a couple of months. I really like it for that purpose. It is really unusable to surf the web and until the recent changes allowing local caching of YouTube, that was unusable also. The unit runs really hot and of the five of them purchased between myself, my son and my father, two were bad. 40% fail rate is a bit too high and you see this around the web. There are models also floating around that while based on the MK802, have faster processors and some even have Jelly Bean on board. Early reports indicate a high failure rate and many bugs in the firmware.
Now, the supposed Google Play marketplace compatibility is interesting. Many applications work fine, there are some major exceptions. Chrome is not supported, neither is any Netflix version beyond 1.8.1. Many a user has automatically upgraded their Netflix only to find it no longer works. Often users are unfamiliar with downloading APK files and installing apps themselves. Many potentially useful applications like Quickoffice Pro HD simply are too taxing or will not work on the Mini-PC.
My conclusion is that I am very happy with the device, it is essentially disposable and works for a couple of useful purposes. As long as you use it as intended, as an entertainment extension, it works well. It is not suitable as a true computing device. I expect this to improve dramatically over time but we will see many generations of this family of devices before we get a high enough quality for general use. It also appears the manufacturer is abandoning the product as it ships, choosing to work on the next iteration instead of maintaining the customer base.
Cstick Cotton Candy
Pros
Well made, high quality construction
Snappy performance
HDMI and USB connectors are plugs not ports, eliminating cables
Ongoing support committed to by FXI
Capable of running the system from any PC, Mac or Linux box with a USB port
Bluetooth
Cons
Price ($199 for the current developer version)
Not all adapters included (micro USB to host USB)
Still some limitations in the firmware
There have been many delays in the release of the Cotton Candy, so much so that many wrote the product off. Especially after the uber-cheap products from China started showing up on Amazon. When I received my device this last week I was immediately struck by the difference in quality. The unit is smaller but feels more substantial. The fit of all the plugs is first rate and everything just feels right.
Absolutely everything feels right about the unit except one silly thing. There is no way to attach a standard wireless mouse/keyboard combo to the unit out of the box. The supplied USB port is micro USB and as we all know, that simply does not work for the mass of input devices we all own. I was a bit irritated at having to run to the store just to be able to use it on my main screen.
This is where the device has an ace up its sleeve. I could not use it with a directly attached keyboard and mouse but I could plug it into my laptop. I had read the words regarding this feature but it clearly did not sink in to my consciousness. I was pleasantly surprised to find I could run the unit like a VM on my laptop once it was connected into the USB port. The device was running in a window, and I had full control of the hardware. I set up the wireless, downloaded some applications, adjusted all the settings to my liking, all without a single peripheral or cable.
The included software provides for a mechanism to flash the device, back it up and also directly access the storage. As with other technologies that get outside the box, the success of this architecture is yet to be determined. Personally, I find it interesting and potentially quite useful for personal, professional, industrial, and educational purposes. I did finally get the adapter needed and the device performed very well on the big screen. I really hope they do not continue to frustrate consumers but start including the adapter the device needs in the packaging.
It is well known that the firmware for the device in in a beta form. I will say that every feature FXITech says works, works very well. Browsing was snappy and very responsive, the use of the device was also very smooth. Digital media and streaming support will be coming in a future firmware release. I am confident they will get this product to completion and I am really looking forward to it.
Conclusion
This has been an interesting race to date. FXITech released the concept in 2011 to the press. A manufacturer in China copied the idea and pushed a cheap product to market quickly. The Cotton Candy has been through a more traditional development cycle and is coming out more polished and ready for use. Who will get to a winning product first? The cheap version is getting better over time but many consumers are left in the ditch with deadend–and sometimes dead–products. On the other side consumers are left waiting for the product that is not yet finished. Both situations are frustrating.
My personal belief is that the Cotton Candy will come out of this a winner, but it will take real commitment to finish the race by the manufacturer. For now if you want a toy that will play Netflix get a mini-PC
. If you want something that will grow into a useful computing tool, buy a Cotton Candy.